International Cruise & Excursions, Inc. (ICE) recently held our 3rd Annual 3-Day Partner Event, November 2-4, 2017, in Scottsdale, AZ, with all proceeds going to Christel House International. ICE is thrilled to be able to help the Christel House International organization, as it transforms the lives of impoverished children around the world, breaking the cycle of poverty and building self-sufficient, contributing members of society.
2017 marks two decades of excellence, innovation and most importantly, partnership for ICE. This event brought together global industry leaders to celebrate ICE's 20 year anniversary.
Day 1 – ICE Onsite Employee Travel and Partner Expo
It all started on Thursday, November 2, with the ICE onsite Employee Travel and Partner Expo. All Scottsdale and Phoenix area ICE employees were invited to attend this event, which took place at the ICE headquarters in Scottsdale, AZ. Accompanied by the relaxing sounds of a live, steel drum band, employees were able to visit and learn about 60 of our partners who exhibited at the expo. A big thank you to the ICE Platinum sponsors, including Viking River Cruises®, Rymax®, Royal Caribbean International®, Sabre and Windstar®.
In addition to meeting with ICE partners, employees were treated to lunch and dessert, courtesy of ICE. Everyone would agree the highlight included a delicious hot cookie served with ice cream! Yum!
To round out the fun, PACC911 (Phoenix Animal Care Coalition) was also represented by two dog rescues (Luv of Dogz Rescue and Valley Dogs Rescue), who brought some adorable pooches for employees to pet, play and adopt. The first day ended on a happy note as two employees each adopted a dog at the event!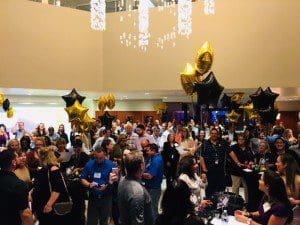 Partner Appreciation Event & Auction
The Partner Appreciation Event & Auction took place later that evening in the lobby of the ICE headquarters. Festivities included plenty of drinks, appetizers and auctions! ICE held both a live auction and a silent auction, with proceeds of over $25,000 benefitting Christel House International. 15 high-end items were sold during the live auction including a Viking River Cruise® and an Apple Watch while our silent auction sold 10 items including a 7-day cruise and a resort vacation!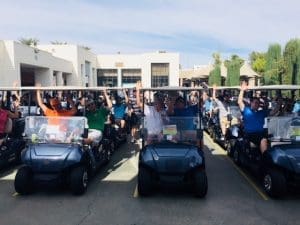 Day 2 – 2017 Christel House Golf Tournament
The second day of ICE's event featured a Christel House Golf Tournament held at Orange Tree Golf Resort in Scottsdale, AZ. ICE hosted over 108 golfers including foursomes of partners and employees who were able to enjoy a beautiful, sunny day together out on the links. Lots of fun was had along with some friendly competition which included contests for the longest drive and a golf ball launcher. ICE even had someone get a hole in one using the launcher!
Day 3- ICE Families & Partners 5K Walk
ICE ended its 3 day event with a fun 5K walk at Chaparral Park in Scottsdale, AZ. Partners, employees and their families (furry family members too) enjoyed a gorgeous, sunny day at the park. Along with the 5K, everyone enjoyed participating in games such as a bounce house, corn hole and of course, lots of healthy snacks. To round out the event, participants also received a free gift bag with three random people receiving a FitBit in their bag!
Not only was our 3-Day Partner Event a fun networking and learning opportunity for our employees and partners, it was all to benefit a wonderful cause. ICE was proud to raise well over $200,000 for Christel House International and we look forward to continuing this tradition for years to come.