The core values of International Cruise & Excursions, Inc. drive extensive philanthropic initiatives, demonstrating that ICE's people, and their commitment to giving back, are truly at the forefront of everything they do. The ICE team members go above and beyond to support all philanthropic initiatives and those for school-aged children in need are no exception.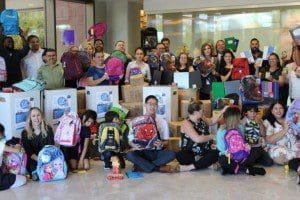 ICE team members came together and raised enough funds and supplies to donate 860 fully stocked backpacks, an additional 11,791 school supply items and provided 100 pairs of new shoes. The items donated go directly to kids in need of school supplies, and basic clothing items, through A New Leaf.
A New Leaf helps individuals with resources, including homeless and domestic violence shelters, with services, affordable housing solutions, behavioral health, foster care, counseling, financial literacy coaching and other basic needs.
ICE is proud to partner with A New Leaf, and provide supplies for the kids to make the most out of their upcoming school year.