ICE presented a $20,000 donation check to their military charity partner, Operation Comfort Warrior, for funds raised in 2016 by team members.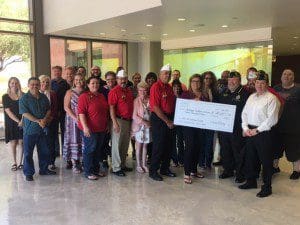 The core values of International Cruise & Excursions, Inc. drive extensive philanthropic initiatives, demonstrating that ICE's people, and their commitment to give back, are truly at the forefront of everything they do.
The ICE team members go above and beyond to support all philanthropic initiatives, and those for furry friends are no exception. In 2016, ICE held poker tournament, played Super Bowl squares, among other fundraisers, to raise money and awareness for this cause.
ICE is so proud to partner with amazing causes, such as Operation Comfort Warriors and make a difference in the community!