The Business Intelligence Group (BIG) announced that it has awarded International Cruise and Excursions, Inc. (ICE) the 2019 Best Places to Work Award.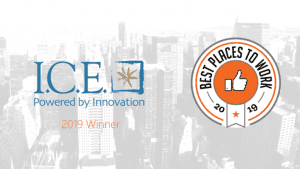 Business Intelligence Group sought to identify companies that are actively working to improve their performance through efforts to challenge employees in environments that make work fun and engaging.
At ICE, we believe the best investment an organization can make begins with investing in its employees. In other words, those behind the curtain are the individuals who drive the success of the entire organization. With over 2,000 employees across the globe, we feel it's important that they are provided with valuable benefits, amenities, and perks all while creating an environment of engagement, giving, and fun. This perfected combination makes them enjoy coming to work each day.
"Congratulations to ICE for building an organization focused on employee engagement and performance," said Maria Jimenez, Chief Nominations Officer of Business Intelligence Group. "It was clear from analyzing the employee survey data that this is a great place to work and employee feedback is not only listened to, but acted upon. Congratulations to the entire team."
We look forward to continuing to build a strong and exciting work culture within our ICE Nation, and are honored to be one of the 2019 Best Places to Work.