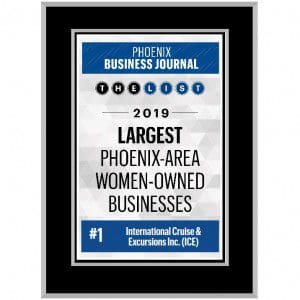 ICE Tops Phoenix Business Journal's Women-Owned Business List for 5th Straight Year
For the fifth consecutive year, International Cruise & Excursions, Inc. (ICE) is proud to have earned the number one spot on the Phoenix Business Journal's Women-Owned Businesses list. Out of 100+ women-owned Phoenix-area businesses on the list, ICE comes in on top, employing more than 2,900 team members across 14 global offices.
Marcia Rowley, together with her husband, John, co-founded ICE in 1997, introducing its original Cruise Exchange program. Marcia was responsible for forging the initial cruise vendor agreement with Carnival Cruise Line®, as well as developing the original strategic alliances with high-quality resorts in the US, Mexico, and Europe. By 1999, John and Marcia had developed business relationships with every major cruise line in the industry. These relationships transformed the ICE business from concept into reality and propelled ICE into its position among the ten largest cruise agencies in the world.
In 2013, Marcia was recognized for her dedication and commitment to philanthropy by being elected to the board of Christel House International, an ICE charity partner that focuses on helping children break the cycle of poverty and become self-sufficient members of society. For more than a decade, ICE has held raffles, auctions, and special events to support the work of Christel House. ICE also funds the organization's work-study program in Mexico, with team members hosting college-bound interns every summer. Additionally, ICE supports animals in need through Phoenix Animal Care Coalition (PACC911), military personnel through Operation Comfort Warrior, and homeless Phoenix families and domestic violence victims through A New Leaf.
ICE's internal Women on Their Way program (WOW), launched in early 2017, invests in career development for female employees who have demonstrated excellence and leadership skills within the organization. ICE established WOW based on the notion that empowerment is created when the strengths that women already bring to the company are recognized and utilized. By identifying and recognizing top-performing women who have the potential to excel into executive leadership roles, WOW promises to provide women working at ICE with a supportive network of mentors and fellow colleagues, as well as additional resources and learning opportunities to assist in achieving their career goals.
Through strategic partnerships and mergers, astute leadership, innovative technology enhancements, and ample growth opportunities, ICE has been consistently recognized as a top leisure and loyalty organization internationally.