ICE is proud to announce we were recently awarded the Best Innovation Award by Perspective Magazine at the GNEX Conference on March 5, 2018 in Miami, FL!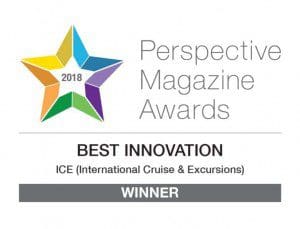 Known as one of the highest honors in the vacation ownership industry, the Perspective Magazine Awards recognizes companies and individuals for their achievements within the vacation ownership industry over the past year. Winners were presented with their awards in front of an audience of their peers during the annual GNEX Conference. There were 30 categories, all judged independently by four industry experts, plus online votes, and elegant crystal awards were presented during an exclusive party onboard the $40 million SeaFair Grand Luxe in Miami, Florida.
ICE won the Best Innovation Award for our LIVE365 program, which is a unique product that allows timeshare owners the opportunity to get rewarded for living their everyday lifestyle, 365 days a year. It gives members the ability to earn travel rewards by playing a round of golf, having lunch or even buying coffee at the local café.
ICE is honored to have won our 1st Perspective Magazine Award and we look forward to many more to come!