ICE recently was awarded two Bronze Stevie® Awards at the 14th annual Stevie Awards for Women in Business!
Two Bronze Wins
Marcia Rowley, Co-Founder and Chief Operating Officer of ICE was named the winner of the Bronze Stevie® Award in the Female Entrepreneur of the Year category Business Products, 11 – 2,500 Employees
ICE won the Bronze Stevie® Award in the Women Helping Women category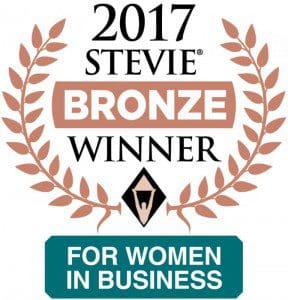 What are the Stevie Awards?
The Stevie Awards for Women in Business are the world's top honors for female entrepreneurs, executives, employees and the organizations they run. All individuals and organizations worldwide are eligible to submit nominations – public and private, for-profit and non-profit, large and small. The 2017 awards received entries from 25 nations and territories.
More than 1,500 nominations from organizations of all sizes and in virtually every industry were submitted this year for consideration in more than 90 categories, including Entrepreneur of the Year, Executive of the Year, Company of the Year, Startup of the Year, Women Helping Women, and Women Run Workplace of the Year, among others.
Stevie Award winners were selected by more than 170 executives worldwide who participated in the judging process.
Here's some information about why we won …
Female Entrepreneur of the Year Award – Marcia Rowley, Bronze Winner
In nearly 20 short years, Marcia Rowley, co-founder and chief operating officer of International Cruise & Excursions, Inc. (ICE), has turned a unique vision into an unparalleled, multi-million dollar travel industry leader. Through Marcia's forward thinking, ICE offers luxury resort, cruise, hotel, flight, tour, golf, wine, merchandise and lifestyle services to its members, in addition to the timeshare exchange benefits that started it all.
It is through innovations like timeshare exchange where Marcia's passion for travel and developing new product innovations quickly became instrumental in turning ICE into the industry leader that it is today.
Marcia's latest innovation to the vacation market, SNAP365, allows millions of brand members to engage with their membership 365 days a year, not just when they are looking to book a vacation.
Through the unique SNAP365 platform and technology, members earn credits as they dine at preferred restaurants, buy their morning coffee or shop popular online merchants and brands. Members simply 'snap' a picture of their receipt, and the purchase amount is matched in vacation credits and automatically deposited into their personal travel account.
Women Helping Women Award – ICE, Women on their Way (WOW) Program, Bronze Winner
ICE is a woman-founded and owned business for the last 20 years, and in the spirit of the organization's proud roots as a female-led company, inspiring new female leaders remains at the forefront of the firm's employee development agenda. In support of these efforts, co-founder and chief operating officer, Marcia Rowley, instituted the first ICE Women on their Way (WOW) program in 2016, empowering ICE women and providing a platform to increase their impact across the organization.
The three primary objectives of WOW are geared toward providing a women's network and support infrastructure for career growth within ICE, promoting a healthy work/life integration, and empowering the women of ICE to contribute to the community.
These goals are heavily integrated into the annual WOW schedule – comprised of various workshops, hot topic roundtables, leadership retreats, keynote speakers, charity campaigns, social listening forums, and most importantly, making a difference for other women in the community through giving back.
WOW is an interactive, year-long program with a group of mentees who are hand selected by Marcia and the ICE senior leadership team. Participants are chosen because of their high propensity to hold executive positions as it is intended as a stepping stone to develop their leadership skills and prepare them for further career growth.
We are thrilled to have won these awards and look forward to many more to come!