The ICE WOW team visited A New Leaf, presenting a $3,500 check to sponsor 4 apartment units being set up.  In addition, over 4,500 physical items (toiletries, appliances, household items) raised to support domestic violence victims and families in need.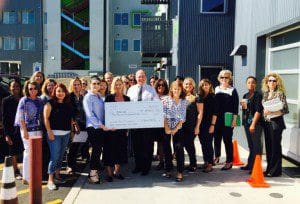 The funds and items were raised throughout ICE headquarters, with the Delivering Dignity campaign.
WOW was developed to identify and recognize top-performing females at ICE who have the potential to excel into executive leadership roles within the Company.
WOW will provide a networking platform to support, educate and mentor these strong women to achieve their career goals at ICE.  ICE believes that promoting and empowering the strengths that women already bring to the Company, and providing them with the tools to propel their career growth, will result in a more profitable and diverse organization.
A New Leaf provides a broad spectrum of support services to help individuals and families succeed. From basic needs to career development to budgeting, A New Leaf focuses on providing the critical skills to achieve lifelong independence.