American Express Awards ICE with the 2018 Travel Representative Excellence Award
We are proud to announce that, for the second year in a row, International Cruise & Excursions, Inc. (ICE) has won the American Express Travel Representative Excellence Award for 2018.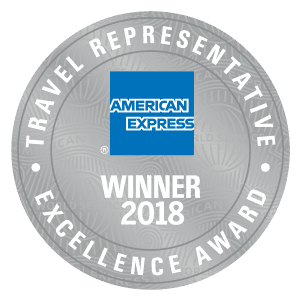 Every year, 25 of the highest performing member agencies in the U.S. Representative Travel Network are honored for their achievements. Criteria for these honors include successfully meeting business objectives, effective leadership and a commitment to excellent customer service.
Furthermore, ICE remains dedicated to innovation and strives to improve every aspect of the travel experience. Cardholders and industry professionals alike have come to know and expect a certain level of excellence from our products and team. We firmly believe in the restorative and positive effects of a great vacation, so providing members with the best value on Cruises, Resorts, Hotels and Tours is of the utmost importance to us.
We had a great 2018, and have gone into 2019 with great enthusiasm for all the new endeavors that have already been put into motion. ICE is honored to accept this award and looks forward to providing continuing our partnership with American Express Travel for years to come.